High-Risk Email Account
High-risk email account " as it may be an Accept-All / Catch-All, a Disposable / Temporary, a Role accounts, Spamtrap (Honeypots) and Unengaged Recipients, even if this category may theoretically still be deliverable.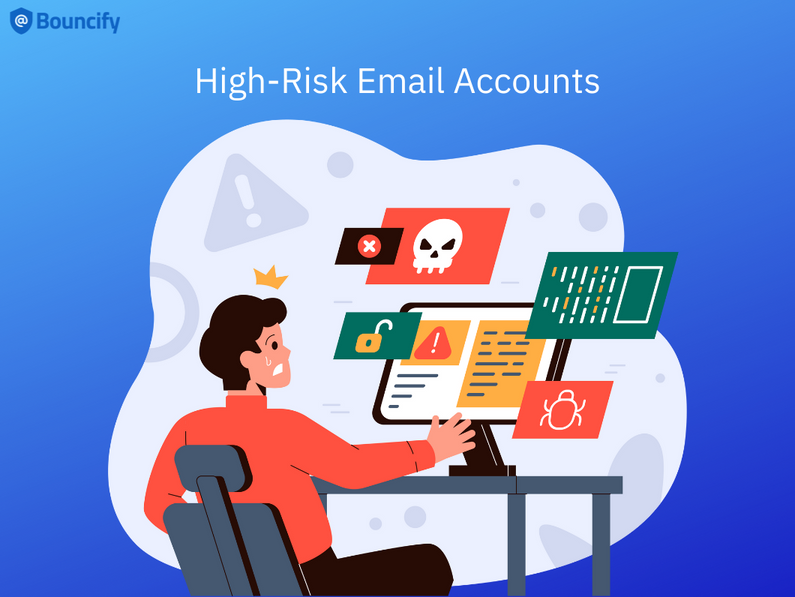 Preparing your email data for deliverability optimization does not stop at eliminating invalid email addresses. Just because an email address is valid or active does not mean it's good for a mailing list.
Using Bouncify's email verification service can get rid of invalid emails in the first step. But at the same time, it helps identify risky email types that negatively impact or limit campaign performance. You can choose whether you want to contact these risky emails that are truly dangerous to your business's success. The choice is based on your specific needs and should be left to you. You can include email addresses that have a catch-all status, for example, if you want to raise your target to the potential price of a soft bounce. Or maybe you want to always exclude free email addresses in your campaigns because you only want to contact business contacts. Bouncify allows users to easily filter email verification results by category and download exactly what they want to see in their campaigns.
Should I send emails to " High-risk email " addresses?
We advise you to exercise caution when contacting any address designated as a " High-risk email account " as it may be an Accept-All / Catch-All, a Disposable / Temporary, a Role accounts, Spamtrap (Honeypots) and Unengaged Recipients, even if this category may theoretically still be deliverable. Continue reading if any to know more about these High-Risk email accounts.
Addresses marked as "Accept-All" will initially accept mail for any address, although it might not go to an inbox. It may also result in a bounce.
The outcome that causes our clients to rip out their hair and bite their fingernails the most is the "Catch-All server."
We frequently get asked, "Should I send emails to catch-all email addresses?"
If only the solution were so obvious. Unfortunately, there is not a single answer that works in every situation; instead, you need to consider several variables.
Evaluate your email collection procedures to start. Since someone clicked on the link supplied to that address, there is a far higher likelihood that the mailbox is in use if your list is double-opt-in.
Also, consider your campaign goals and the value of the contacts on your list. For example, your strategy might be different from signing up for a new mailing list.
There is nothing wrong with free email addresses. After all, Yahoo, Gmail, and Hotmail are the three most popular email domains. Many prospects and trusted customers are sure to use one of these.
Still, some of the smartest B2B customers choose to avoid them. why?
Business users who use free email as their primary email account usually also have a business account. By avoiding free accounts, spammers, non-business prospects, or secondary email accounts are less likely to infiltrate your database. This adds a validation layer to your lead generation process.

Many companies use role accounts to manage general communication across departments or companies. We've seen it before, but it's a generic email like info@example.com, sales@example.com, mail@example.com, and help@example.com.
These accounts are often managed by multiple people or subordinates who do not make decisions. As a result, they are notorious for their low open rates and higher-than-normal bounce rates.
Again, whether to include them depends on business-specific factors.
What are your data collection methods? Are you using a double opt-in procedure?
What is the source and value of this data? What is the purpose of the campaign?
What is your story about this contact? Prospect or customer? Use common sense with role accounts.
Of course, you do not want to lose your only point of contact with existing customers, for example.
Successful verification of addresses on role accounts is irreversible, but having too many addresses in your list can slow open rates and hurt the performance of your email marketing campaign in the long run.
These frequently include many persons in management and typically identify a duty rather than a person (for example, support@ or info@). These emails frequently result in increased bounce rates, increased unsubscribe rates, and lower engagement rates.


This is the highest of all risks when it comes to technically valid email. A spamtrap (or honeypot) is an email address used to trick spammers into sending you email without your permission. These are real mailboxes set up on an active server.
These are designed to go undetected, so you may be unknowingly being sent to your spam trap until your bounce rate starts to rise.
This is one of the reasons why email verification services are so important. There is no other way to find spam traps. They are hidden in the list and do not return bounces. But every time you send it, you damage your reputation even more.
Clean up your mailing lists regularly to make sure no known spam traps lurk in your data.

Email confirmations are not helpful, but they are an important part of a successful deliverability strategy.
ISPs favor's senders with high retention rates, and customers who do not engage in mailings hurt future delivery rates. Customers stop engaging for a variety of reasons. Losing interest, losing interest in campaigns, changing email addresses, etc.
Therefore, review engagement statistics quarterly and target inactive users for re-engagement in campaigns. If you still cannot get in touch, it may be time to move on. Reducing the size of your mailing list is always painful, but sometimes it's necessary. Trimming non-responding recipients improves overall retention, and that can be the difference between the Inbox and the Junk folder.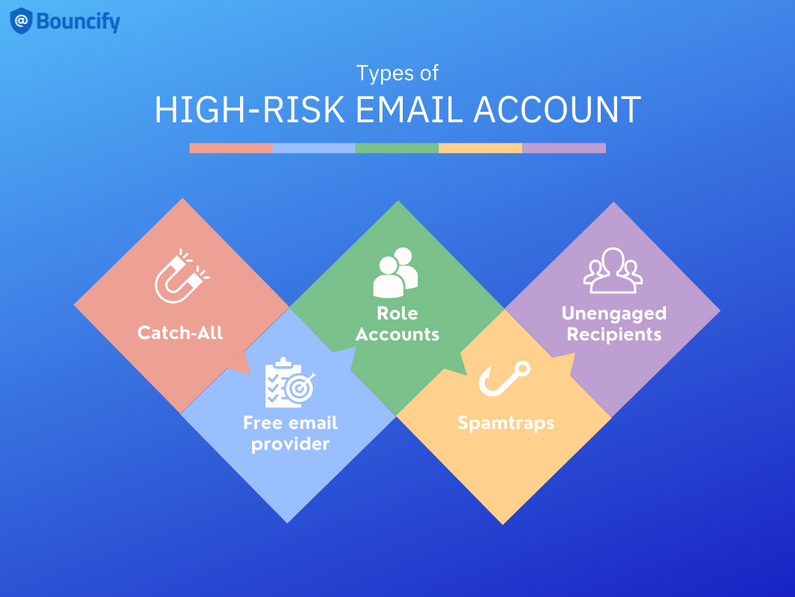 Every list is unique, and every business has a distinct threshold for email addresses that cannot be classified as "Deliverable."
Email addresses with inadequate deliverability or quality are considered "High-risk email accounts". They could exist, however, there are now technical difficulties in that email that indicate very little participation. We rate them as "risky" since they could have an impact on the effectiveness of your marketing.
To assist you to decide whether to preserve or delete emails we label as "Risky," we advise you to consider the data's age and source.