Email Verifier
Bouncify is a SaaS product and is a powerful outreach tool that helps marketers verify users' email addresses to ensure good delivery rates and reach potential customers.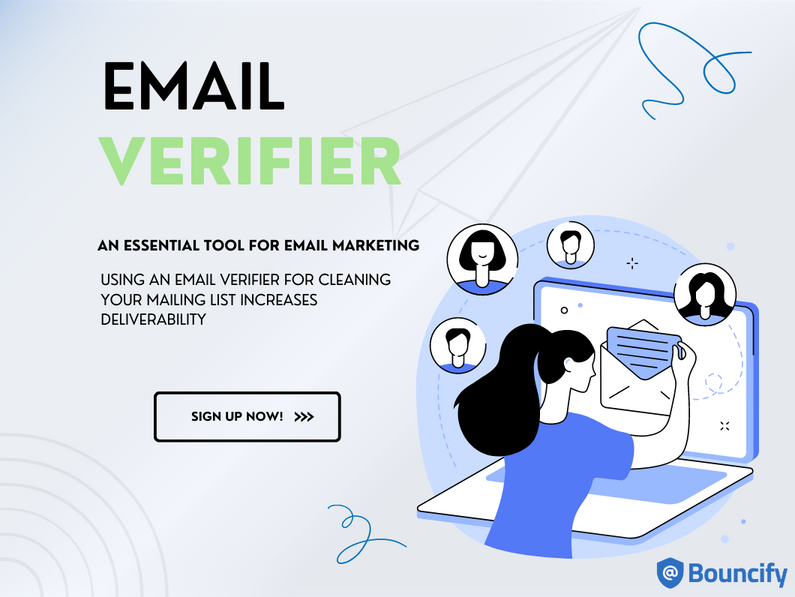 Businesses send updates to their clients about new goods, offers, and other information by using email marketing, a direct marketing method. The majority of organizations' total inbound strategy depends on email marketing because of its strong ROI.

Instead of focusing on bulk mailings, modern email marketing instead emphasizes permission, segmentation, and personalization. Although it may seem time-consuming, marketing automation really does most of the intensive work for you. In the long term, a successful email marketing approach not only increases revenue but also builds brand value.

Email Verifier is one of the important tools used in email marketing automation. Email Verifier is a SaaS product and is a powerful outreach tool that helps marketers verify users' email addresses to ensure good delivery rates and reach potential customers. An Email Verifier is a service/tool used to verify your mailing list for invalid email addresses.
You may be considering using a reliable email verifier if your bounce rate is starting to bother you and your mailing list needs a good cleansing. But what should you look for in a reliable email verifier? It might be challenging for someone who has never used an email verifier and to decide which one is better.

Observe what the business says on its website. Some email verification providers may not guarantee accuracy. If your email verifier can't offer accuracy of 99%, which is an excellent level, you should probably consider Bouncify. Bouncify offers you fast verification with 99% accuracy.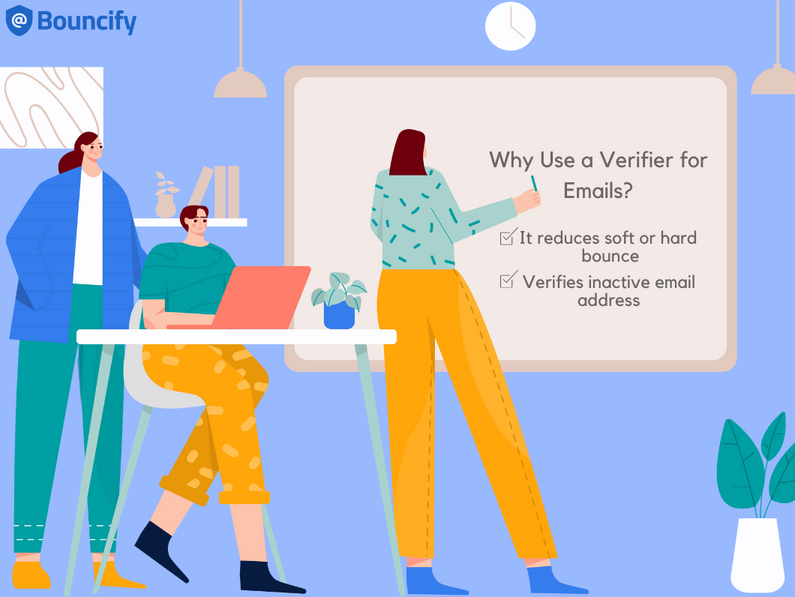 Why Use a Verifier for Emails?

If soft or hard bounces continue to appear in your deliverability statistics, then the email addresses in your database are either incorrect or belong to receivers whose inbox is already full. Email providers like Gmail, Yahoo, Outlook, etc. may restrict your sender address if your bounce rate is too high.

You may find faulty and unreachable email addresses and remove them from your list by checking the email addresses on your mailing list.

Suppose you have collected a mailing list made up of only registered subscribers.
Preferably, they confirmed their email address in the second step of the double opt-in process. However, this initial confirmation does not necessarily mean that the email address will be active forever. Here are four reasons why email addresses can become invalid and why it's a good practice to check them.

Users may have switched email providers -

Gmail, Outlook, Yahoo, etc. differ in function, design, and policy. For their convenience, users can switch providers and their email addresses will change. Their original right to receive emails from your brand does not apply to their new address. You can't tell that specific users have changed email providers unless you check their email addresses.

People may also create a brand new account within the identical provider -

People who registered an email account for personal purposes may want to switch to using it for professional communications. An informal email address, like godsangel1808@XXXXX.com, will look inappropriate and make the wrong impression. For this reason, a user may create another account with their real name in the address, for instance, sam-luther@XXXXX.com.

People change their workplace over the years -

This is a common problem in the B2B segment as many professionals move between companies. When starting a career at another company, they changed their old work email address and replaced it with a new one.

The domain may be closed -

The part of the email address followed by the "@" symbol is the domain address. For personal communication, people use email providers and their email addresses end with their respective domain addresses, like "gmail.com", "outlook.com", "yahoo.com", etc. Instead, marketers and entrepreneurs use the company's domain address. These users won't be able to receive your email if their business closes and the domain goes down.

Now you understand that an email verifier is an essential tool to keep your mailing list healthy. A professional email verifier like Bouncify can help you remove all invalid addresses from your mailing list and saves money on emailing. In order to find out how this technology works, signup at Bouncify.io and verify your email addresses instantly.